pillow-grace
Regular price
Sale price
$78.00
Unit price
per
Sale
Sold out
A happy heart makes the face cheerful. Proverbs 15:13
Perfect for: Birthday, Encouragement, Milestones, Gender and Age Neutral
This design is sure to bring a smile to your face. Meant to encourage a happy heart, these verses encompass the virtues of who Christ aspires us to be.
Verses Included in Design: Proverbs 15:13, Galatians 6:9, 1 Thessalonians 5:11, Galatians 5:22-23, Colossians 3:12, Micah 6:8, Proverbs 15:4, Nehemiah 8:10, Romans 12:10, Philippians 4:4, Romans 12:15, Luke 6:35, Philippians 4:7-8, Ephesians 4:2, 1 Corinthians 13:7, 1 Thessalonians 5:16-18, Hebrews 12:1, Luke 6:31, Psalm 116:12, Matthew 7:17, Proverbs 15:1, 1 Peter 4:8, Philippians 4:5, 1 John 4:19, Titus 3:2, 1 Timothy 6:11-12, John 14:27
Boudoir throw pillow (18 x 12  inches, pillow insert included). Envelope closure. Machine washable. Price includes personalization.
This design is also available as a standard pillowcase. 
Please Note: While we make every effort to represent our colors accurately, every monitor is different and we cannot guarantee the colors you see here match the colors on the fabric. 
Share
View full details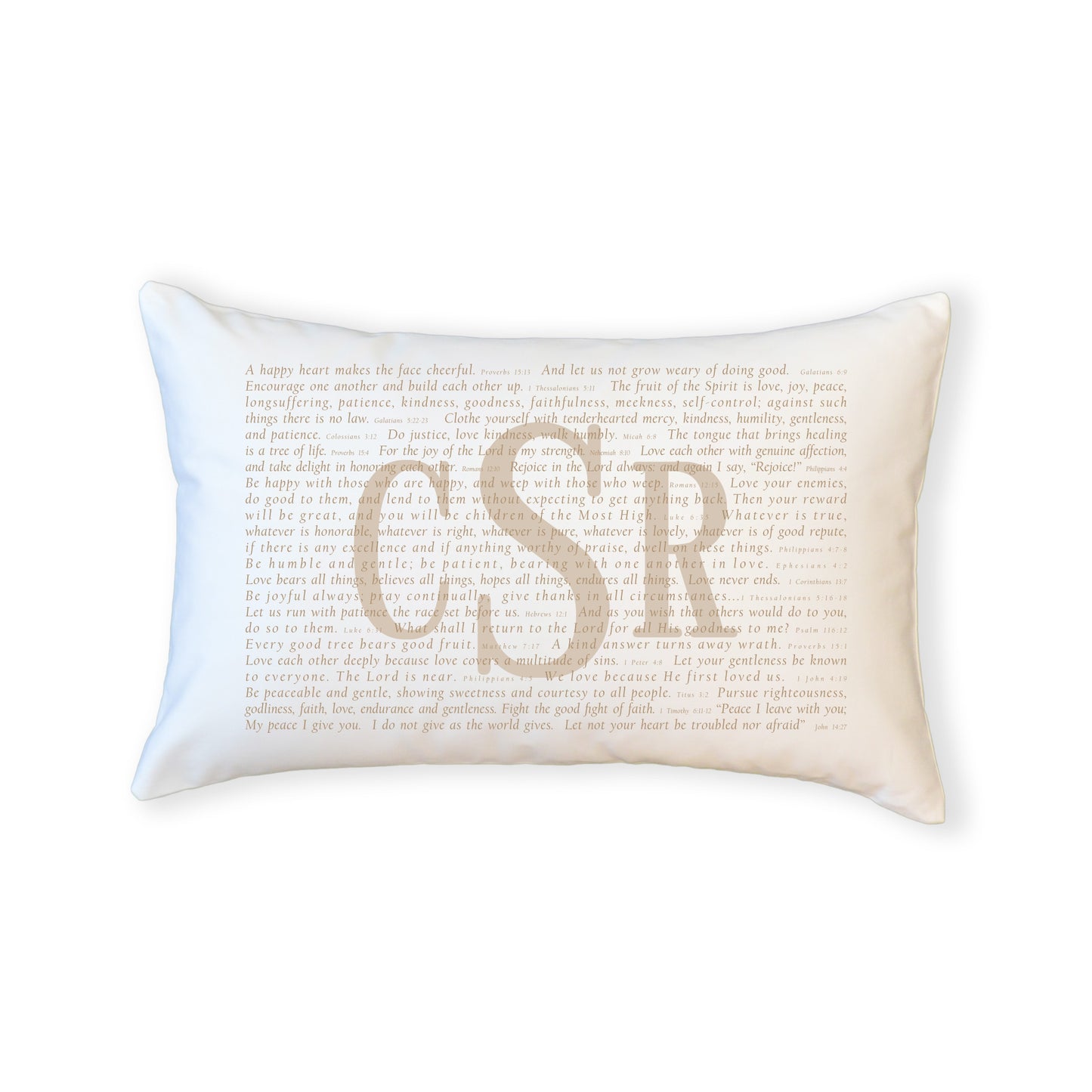 The PillowGrace Difference
Why PillowGrace

PillowGrace was created to help the busy, tired, and concerned remember the power of God's word. Nights are no longer lonely, restless, or dark when you are enveloped with words of comfort, meaning, and encouragement, helping you awaken restored so you can "run with perseverance the race marked out" for you (Hebrews 12:1).
Customization

With a variety of sizes, fabrics, trims, fonts and colors available, each PillowGrace fully customizable. We offer a wide array of colors, fonts, designs, and personilization levels, allowing you to match any room or personality.
Sizes

We offer boudoir and square throw pillows, as well as standard pillowcases.

- Standard (28" x 20")
- Square (20" x 20")
- Boudoir (18" x 12")
Fabrics

Our fabrics include 100% ultra-sateen cotton and 19MM silk, both white in color.

- Ultra-Sateen Cotton: Soft and lightweight with a slight sheen. Tightly woven for durability.
- Silk: 100% 19MM silk in white. Simply luxurious, smooth to the touch, hypo-allegenic, minimizes erinkles and bed head, naturally regulates temperature and hydrates.